Each faculty member at the Cookery Club of Athens is a talented educator or a well educated officer. Our Chefs have more than 20 years of expertise and are accredited as instructors.
Nikos Makrymichalos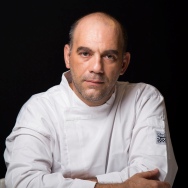 The leading Chef/Partner in our Culinary Programs at The Culinary Center & Cookery Club. He studied in Greece at the School of Tourism, but then he continued in France at Ferrandi, Ecole Superieure de Cuisine Francais. He has attended seminars at the world – renowned cook and pastry specialist Yves Thuries, while his working experience includes the greatest restaurants of France. He then returned to Greece in order to see his great passion turn into reality. He has worked in well-known restaurants, aiming to promote Greek gastronomy and the use of seasonal products in the menus. He now works as a consultant to restaurants, as well as a private chef exclusively in mansions, while he collaborates with advertising agencies and magazines.
George Galis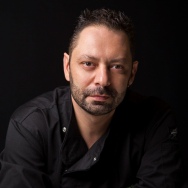 Our Chef is George Galis, who makes us feel like. He is with us on a daily basis in order to teach all those who insist on homemade food.
He was born in Nafpaktos in 1970. He lived in Athens and he was a student of St. Kypreos in the school of Anavyssos. In 1994, he graduated from the Tourism Management Department of the ESDTH of Morocco (specialisation on Mediterranean Culture Diet). He also attended programmes at New School of Cooking (Culver City, California) on 'Professional Baking 1' and then at the CIA at Greystone specialised on PCEC. His philosophy is based on traditional kitchen, simplicity and persistence in expressing feelings during the preparation of a well cooked meal or a delicious sweet.
Nikos Katsariotis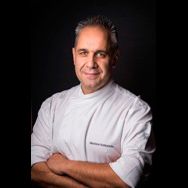 Executive Chef/Partner at The Culinary Center & Cookery Club. He has the ability of transforming even the most difficult cooking class into a unique experience. With many years of experience in the kitchens of Kings and VIPs, in an excellent way he masters recipes of Haute Cuisine, as well as of authentic Greek traditional Cuisine. He studied in Greece at the School of Tourism. Experienced, happy and highly contagious, Nikos Katsariotis counts over 20 years of remarkable culinary experience. From his first steps he worked in excellent restaurants, among them the 'Emporio Armani Caffe', the 'Al Tartufo', the 'Byzantine-Hilton' and 'Beau Brummel' under the supervision of renowned Chef Guy Martin.
Lila Karapostoli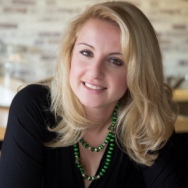 The Culinary Manager/Partner at The Culinary Center & Cookery Club. Since her first professional steps, she worked with food companies and restaurants. After additional seminars in F&B, she started her journalistic collaboration with FOOD SERVICE magazine, which continues until now. The experience she got while working in professional kitchens, her contacts with famous chefs, as well as her numerous gastronomic trips and workshops, provided her with an excellent knowledge of gastronomy. Her articles have been published in several gastronomy and lifestyle magazines. She was also chief editor of White Guide of Eleftherotypia newspaper, as well as chief editor of Biblos of Cooking. Her book, «Traditional Tastes of the Aegean», was awarded as the «Best Book of Gastronomy written by a Greek author » by Gourmet Awards. She has obtained the Professional Chef Certification.
George Kanxidis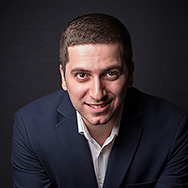 The Operations Manager/Partner at Culinary Center & Cookery Club. Always happy and optimistic, full of ideas, he is responsible for the company's new cooperations in Greece and abroad. He started his studies at the Events & Conventions Management and BA (Hons) in International Hospitality and Tourism Management at the University of Wales and he immediately loved the Tourism and F&B sector. His specialization was completed by MSc in International Hospitality Management in Cardiff Metropolitan University, but his versatile experience reaches the top in his best project- The 'Cookery Club'! Working with expertise at Cookery Club, he believes that time devoted to what we love is simply priceless! He has obtained the Professional Chef Certification.